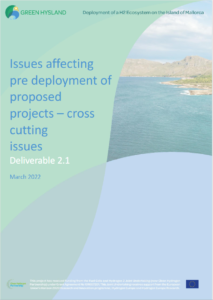 This document summarises the main issues identified regarding all the phases of GREEN HYSLAND: from pre-deployment to operation and replicability studies, including general risks that may affect the different activities involved.
Within the frame of this document, the reader is advised to note that the terms "issues" and "risks" are used interchangeably. Here, the term "risk" is taken to mean an issue that would cause the project to suffer a delay or some other circumstance that would have a negative impact.
There is a proposed mitigating measure for every risk identified in the analysis, both risks and corresponding mitigating measures have been reviewed by the Deployment Advisory Group members: Enercy, FHa, EMEC, HYE, HyCologne, NEC, Enagas, Calvera, Redexis, EMT Palma, Port Balear, LLoseta Council.