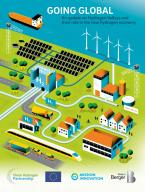 In the light of the upcoming 13th Clean Energy Ministerial and 7th Mission Innovation (CEM13/MI7) ministerial in Pittsburgh, USA (September 21-23), the Clean Hydrogen Joint Undertaking prepared an update on Hydrogen Valleys and the Mission Innovation Hydrogen Valley Platform, focusing on the role of Hydrogen Valleys in unlocking the New Hydrogen Economy. The report summarizes the emerging hydrogen market today and presents insights on Hydrogen Valleys from around the world.
Hydrogen is a key cornerstone of the green transformation of the global economy,
and a major lever to diversify energy supplies and accelerate the clean energy transition.
With its RePowerEU Plan, the European Commission topped top-up Horizon Europe
investments to double the number of Hydrogen Valleys by 2025 and is committed
to achieve 10 million tons of domestic renewable hydrogen production and 10 million
tons of renewable hydrogen imports by 2030.
We are proud to see that all these eforts will allow us to further enhance and expand the Mission Innovation Hydrogen Valley Platform.

Rosalinde van der Vlies
Vice-Chair of the Mission Innovation Steering Committee
Director of the Clean Planet Directorate in DG Research and Innovation –
European Commission
You will find information on our Green Hysland project on page 23!