News
Picture: Low pressure tank and compressor station – © H2Ports
The H2PORTS project aims to boost the transition of the European port industry towards an effective low-carbon/zero-emission and safe operative model, piloting, evaluating and demonstrating new Fuel Cell (FC) technologies.
One of the innovative solutions to be tested at the Port of Valencia is a mobile Hydrogen Refuelling Station (HRS) specifically designed for the project. This is the equipment that is has been built by the Centro Nacional del Hidrógeno (CNH2) with the support of Carburos Metalicos.
The layout is twofold, combining a fixed part with a mobile unit. The fixed system is composed of a low-pressure buffer tank and a compression station. The mobile unit is a hydrogen handling device that delivers high pressure (450 bars) hydrogen to the two project pilots located at two port terminals.   
The green hydrogen supply arrives to the Port of Valencia by road transportation. The truck unloads around 150 kg of hydrogen pressurised at 200 bars into the low-pressure (40 bar) vessel. The compressor system increases its pressure to 450 bars to fill high pressure vessels onboard the mobile trailer. These vessels store up to 60 kg of high-pressure hydrogen at two pressure level 300 and 450 bars to improve energy efficiency.
The mobile trailer will be conveyed into the Port terminals to refill the hydrogen-powered machinery with high pressure hydrogen per day reaching a mass-flow of 3.6 kg/min. The total refuelling time is less than 15 minutes, remarkably improving recharging times of alternative decarbonised power solutions.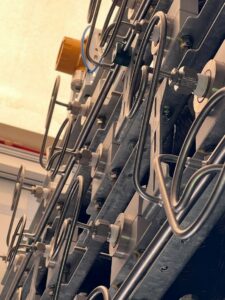 The system is currently undergoing its commissioning stage. After the final test, the operational period is planned to start from early 2023.
H2Ports aims to test and validate hydrogen-powered devices in the port-machinery industry with the target of having applicable and feasible solution in regular port operations. Please follow H2PORTS advancements on the project's LinkedIn profile.
This project has received funding from the Fuel Cells and Hydrogen 2 Joint Undertaking under grant agreement No 826339. This Joint Undertaking receives support from the European Union's Horizon 2020 research and innovation programme, Hydrogen Europe and Hydrogen Europe research.
The project consortium is composed by: Fundación Valenciaport, Ballard Power Systems Europe AS, Autoridad Portuaria de Valencia, Centro Nacional de Experimentación de Tecnologías de Hidrógeno y Pilas de Combustible, MSC Terminal Valencia, Hyster-Yale Nederland BV, Grimaldi Euromed SPA, ATENA SCARL, Enagás SA and Carburos Metálicos.
In October 2022, Green Hysland co-organised a webinar with H2Ports on the decarbonisation of the maritime sector. Check it out!