News
The educational program
The EMT Palma has launched the "Educational Project for the promotion of sustainable mobility" to make students of Palma aware of the new Green Hysland's hydrogen buses and their benefits for the environment. This initiative, which in the last school year has reached over twenty schools, has allowed thousands of primary and secondary students to become familiar with concepts such as zero emissions or global warming.
With the assistance of a story and a video game, school children learnt how they can contribute to reducing their emissions into the atmosphere by sharing public transport with others, instead of using private vehicles. The illustrations and the story carry the message of sustainable mobility forwards to the children and their families, thus strengthening the ecological awareness of future generations.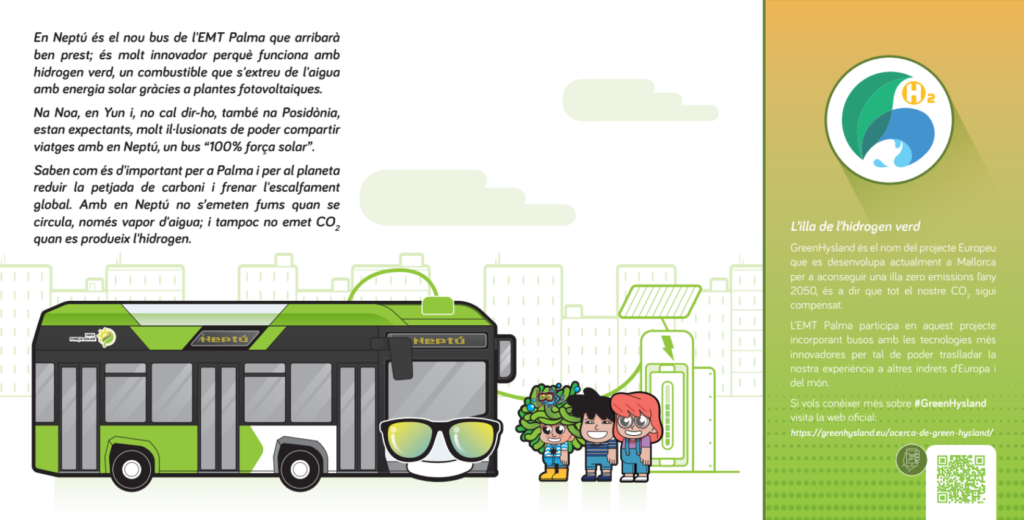 Communicating Green Hysland to communities
This educational project is part of the information and awareness-raising actions that EMT Palma carries out with the local population. Overall, the company has participated in almost 40 activities and events over the last school year, informing the public about Green Hysland and the benefits of hydrogen buses, which aim to reduce the carbon footprint of urban public transport until reaching zero CO2 emissions in 2050.
EMT Palma has been busy explaining the functioning of the new hydrogen buses in open doors days, workshops, family activities or municipal fairs: how their silent movement allows for a more comfortable and enjoyable travel experience, recovering energy as they move on thanks to their new regenerative braking system, and producing zero CO2 emissions as they run on green hydrogen, a fuel extracted from water thanks to photovoltaic plants.
The new green hydrogen buses of the EMT are another step towards Palma's commitment to sustainable mobility and new fuels, becoming the second Spanish city, after Barcelona, to have a fleet of vehicles powered by green hydrogen fuel cells.
Environmental education and public awareness of good sustainable transport practices are part of the European "Green Hysland" project, which aims to promote the transition towards a more sustainable and environmentally friendly public transport.