Events
Date: 22nd June 2021
The HUGE project partners have organized several webinars on hydrogen mobility on road transport for smaller vehicles, maritime and aviation. Their focus now targets heavy vehicles, an area that is becoming more relevant given the number of truck manufacturers coming to the market.

In this webinar, they will share the development plans for hydrogen trucks and their infrastructure in their partners' regions Ireland and Iceland, the latter linked with the Nordic Hydrogen Corridor (Next Wave project). The webinar will follow up with an overview of the implemented hydrogen trucks project in Switzerland, with emphasis on the challenges and opportunities, as well as the level of involvement of the Swiss government. To close the session, two truck manufacturers will share the recent developments on the construction and delivery of hydrogen trucks on the road and the market opportunities they envisage. At the end of the seminar, the speakers will participate in a discussion panel to comment on hydrogen trending topics and any highlighted questions from the public.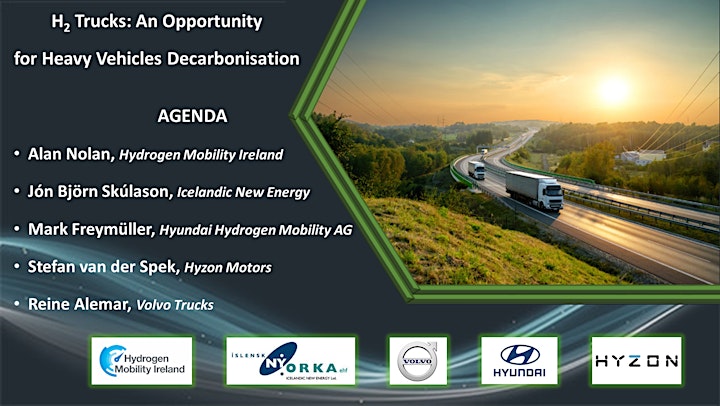 Agenda
10:00 – 10:10: Welcome & Introductions; Pau Farràs, NUI Galway
10:10 – 10:20: Ireland, a potential market for hydrogen trucks; Alan Nolan, Hydrogen Mobility Ireland
10:20 – 10:30: Hydrogen trucks in Iceland, the next step; Jón Björn Skúlason, Icelandic New Energy
10:30 – 10:55: Challenges and opportunities in Switzerland, lessons learnt; Mark Freymüller, Hyundai Hydrogen Mobility AG
10:55 – 11:20: Hydrogen trucks, the need for a suitable infrastructure; Stefan van der Spek, Hyzon Motors
11:20 – 11:45: Hydrogen as a part of the Climate Solution for Heavy Duty Trucks; Reine Alemar, Volvo Trucks
11:45 – 12:00: Panel Discussion and Closing Remarks

The HUGE online seminars aim to transfer the knowledge of hydrogen technologies to a wide audience, including industry stakeholders, end-users and government agencies from a vast area in Europe. HUGE is part of the Hydrogen Triple Alliance (HTA), an association of three EU-funded projects (HUGE, SEAFUEL & GenComm) supported by Interreg programs that combine experience and knowledge from a wide range of organisations. The HTA is designed to disseminate the opportunities that hydrogen technologies offer, especially in Northwest Europe, Atlantic Area and Northern Periphery and Arctic regions.