News
The European Hydrogen Energy Conference (EHEC) is Europe's conference of reference in the field of hydrogen energy. Organised by the Spanish Hydrogen Association (AeH2), EHEC provides an excellent framework for updates on hydrogen energy technologies. The 2022 edition took place on May 18-20th in Madrid.
The first day welcomed speeches from Teresa Ribera, Third Vice-president of Spain and Minister
for Ecological Transition and Demographic Challenge, as well as Ursula Von der Leyen, President of the European Commission.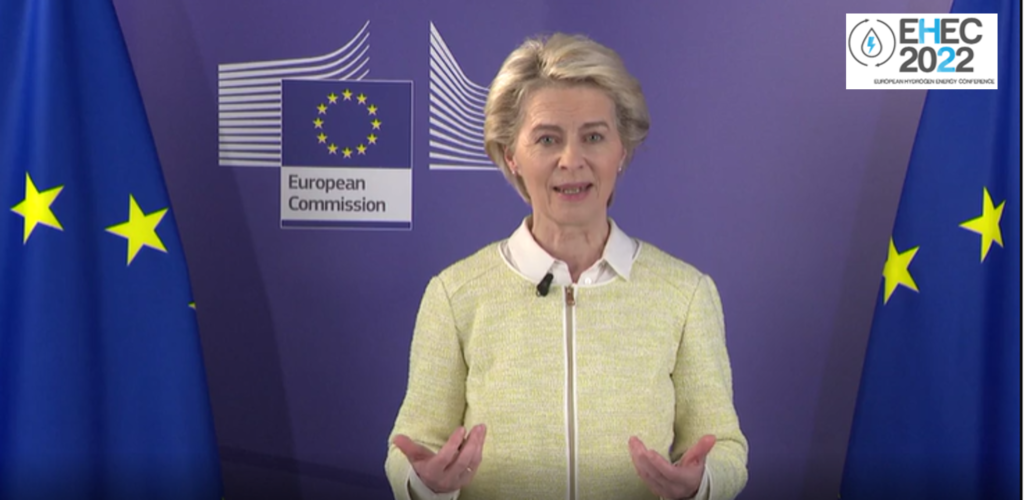 In her speech, President von der Leyen welcomed the fact that in the first 3 months of 2022, 20% of all new clean hydrogen projects announced in the world were in Spain. "A shift is happening in Spain and across Europe", she said, "from small-scale, subsidised hydrogen to mass-scale competitive hydrogen. Our task is now to accelerate."
Some will tell you that hydrogen is for the future. I disagree. Europe's hydrogen economy is being built today.

Ursula von der Leyen
She announced that through REPowerEU, green hydrogen objectives have been doubled to ten million tons of renewable hydrogen produced annually in the EU by 2030, as well as another 10 million tons in annual imports. These are included in the Hydrogen Accelerator strategy launched on 18th May as part of the REPowerEU plan. Watch the full speech of Ursula von der Leyen here.
Green Hysland side event
Green Hysland was lucky enough to be in the spotlight during a 1,5hour session on the same day, during which project partners and supporters discussed its concept and objectives.
A first part welcomed the director of Renewable Gases and Services at Enagás, Mr. Antonio Cases, Acciona Energía's Innovation Director Mr. Antón Martínez, Ms. Belén Linares, Head of Public Affairs at CEMEX, Mr. Miguel Rodrigo, Head of Regulatory Framework and Corporate Strategy at IDAE and Mr. Pep Malagrava, Director of Energy and Climate Change of the Government of the Illes Balears, for introductory speeches and setting the context.
The second part focused on an overview of pilot sites (hydrogen production plant and hydrogen refueling station, fleet of hydrogen buses, fuel cell at maritime station, fuel cell at hotel, fleet of hydrogen vehicles and hydrogen injection) by project partners. Download the event programme.